Category Archives:
Portraits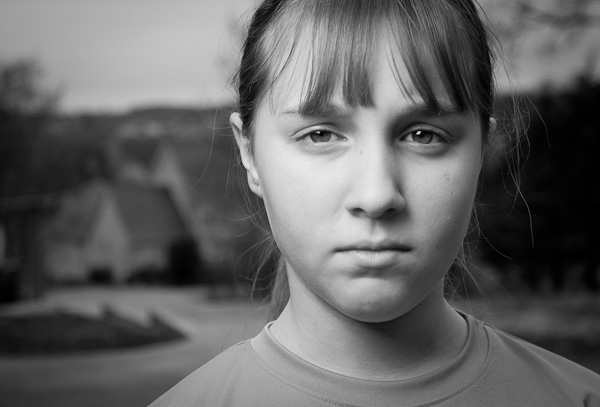 Why do we always insist on people smiling for our photos, especially kids? We're complex beings with a full range of emotions. Why fill our family photo albums with people trying to look happy. Don't get me wrong, a shot of loved ones in the midst of a laugh or sharing a jovial moment is a wonderful thing. But lining everyone up in front of the camera like a reverse firing squad and demanding that they look happy for the camera is a real drag, and some of us don't have a go-to fake smile we can activate on cue.
So, sure, go ahead and take the group shots so you can identify loved ones for future generations; but don't be afraid to shoot real candid emotions, happy or not. What were the circumstances behind the shot above? I had been taking photos of her siblings and asked Kobi if she wanted her photo taken as well. She replied "sure" unenthusiastically, obviously being in a bit of a funk, and stood before the camera. The kids are used to me taking multiple "test" shots so she stayed in character. I like this one because it captures something real. I think when I look back at this in the future I'll remember who she is/was and it will inspire more memories than any "say cheese" moment would have.
Later,
Dwight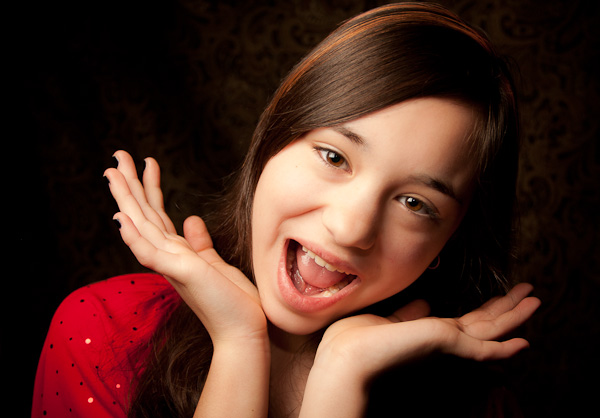 Christmas and birthdays are great times to get new toys.  This year not only did I have the pleasure of spending the first white Christmas in 17 years with family in our cozy home, thanks to the wonderful generosity of family members I was blessed with more photographic toys. Among them were an upgraded speedlite and a small on-camera diffuser.
I've spent years avoiding using anything more than a speedlite (flash).  I assumed that lighting equipment was like heroin– you'll always want more. But now that I had two speedlites, I couldn't resist availing myself of some inexpensive lighting accessories as an early birthday present. I mean, I had to get lightstands, right? And it wouldn't hurt to get a shoot-through umbrella and maybe even a softbox…I mean, hey, I have a birthday coming up, right?
So about $350 later, yes I did some shopping around and found a couple of great bargains, I suddenly found myself with a small home studio.
Since I have been blessed with one handsome grandson and three beautiful granddaughters, I have no shortage of available models. And they work for food. The photo of Kali, above, was shot with a speedlite in a softbox.  Having been disappointed with my past results from an on-camera speedlite, I was quite happy with the photo above. Six months from now I hope to have made so much progress that I am ashamed of ever posting this photo.
Technical Information
Camera: Canon 40D
Lens: Canon 17-40mm f4/L at 29mm
1/250 sec. at f/4
Speedlite: Canon 580 EX II
Cheetah Speed Pro 14″ x 14″ softbox
Backdrop: a piece of fabric leftover after my wife re-upholstered the dining room chairs