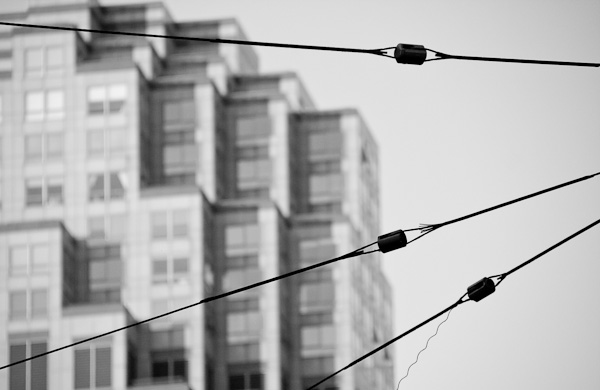 Power lines– the bane of every photographer's existence. How many times have I seen "the perfect shot" just to be foiled by power lines in the way? Sure, there are ways around them. You could move; but that always seems to ruin the perspective you had in mind (or would require you to stand in the middle of traffic). You could just remove them in Photoshop; but I refuse to spend hours cloning out power lines (life's too short). If the lines are significantly closer to you than the subject you are photographing you can adjust your depth of field so that the lines go far enough out of focus to disappear; but that means your subject will have a shallow depth of field, and only works if the lines are a lot closer to you than the subject.
So, what do you do? Sometimes I just say to heck with it and embrace the presence of power lines. They deserve love too, right? Above and below are a few examples where I espoused this philosophy.
Is there something distracting you from your primary subject? Maybe you should shift your focus.
Later,
Dwight