I have been fighting it for years, but I finally relented. Look, I know that the value of light is the vocabulary of the photographer– I embrace that. I value the importance of the direction, color, intensity, quality (hardness vs. softness), the interplay of light and shadow– the elements of light. I am a dedicated student of the parameters of the proton en masse. And I am painfully aware of the mantra of the outdoor photographer, "to capture the best light you have to be there before sunrise." But, dammit, I used to be a musician– when I witnessed daylight it was at the end of my day. And it wasn't always pretty.
I gave it a shot, though…in New Orleans. As you might expect, New Orleans is quite the hodgepodge of humanity at 5 AM. I headed into the French Quarter at Canal Street and Royal, one block south of Bourbon Street and witnessed a blend of restaurant workers arriving for the morning shift, street cleaners, strip show workers ending their shifts, drunk fratboys, and people making the walk of shame way overdressed for the breakfast hours.
And then there were the cats.
I have no idea what the culture of this phenomenon is; but there was a substantial number of antique and curio shop windows that were occupied by cats. They posed and stretched and gawked and yawned, apparently basking in the glow of the morning sun.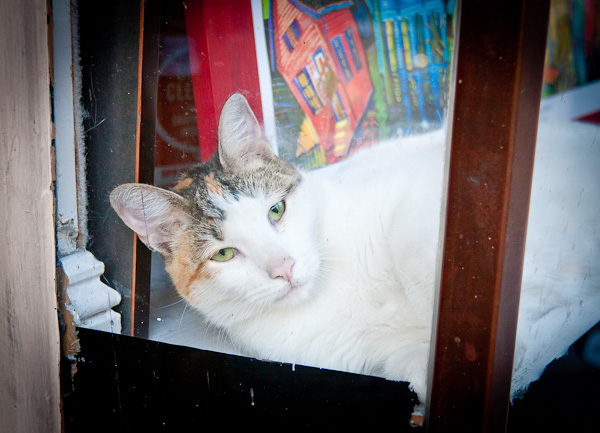 For whatever reason, the morning was their domain. And what the heck, it's not a bad life hanging out in the shop window isolated from the activities on the street but still able to watch.
Maybe next time I'll just sit in the window with the cats and my camera and watch what the rising sun illuminates as it peeks down the morning streets.
Later,
Dwight