Monthly Archives:
June 2011
Just a quick update to let everyone know what's going on.
It's been a busy summer and will prove to be even busier still. Upcoming are trips to Barcelona, San Francisco, and the mountains of Tennessee. In the rear view mirror this summer are NYC, Winchester, England, and New Orleans. Most were business, some were pleasure; but all have been photo ops. So I promise to have some meat for this blog in the not too distant future.
Thanks for your patience and watch for updates on twitter (@DAtterholt) and later on this blog.
Later,
D
Here it is, Winchester Cathedral. I had no map of the area; and to use Google maps on my iPhone would have cost me a fortune in digital roaming fees, since I was in Europe. So it took me quite a bit of wandering around parochial school playing fields, historic chapels, and old pubs before I finally found Winchester Cathedral. As you can see above, it was well worth the trouble.
Locations like this are a real challenge for photography. They are massive, so you need to have a wide angle lens. They also have a tremendous dynamic range (the difference between the lightest tones and the darkest). It ranges from pitch black shadows in the cubby holes to bright sunlit windows. To make it more challenging, the camera's digital sensor, while it does have a greater dynamic range than film, still can't match the range that your eyes see. The only way I know to get around this is to use what is called High Dynamic Range (HDR) photography.
HDR under these circumstances requires slow shutter speeds, which you know will cause blurred photos if you handhold your camera. So you need to use a tripod. This brings up another challenge for these locations. They often don't allow the use of a full-size tripod (people coming in from the sunlight into the dim light might trip over it). Fortunately, I always travel with a very small "tabletop" tripod. Here's the one I use…http://amzn.to/jo9S3F. It's only about 6″ tall and fits neatly in the outside pocket of my small camera bag.
The photo above is an HDR photo. It was made up of three shots, one at the "normal" exposure (as determined by the camera), one at one stop under exposed, and one at one stop over exposed. (In hindsight I wish I had taken a few more exposures to capture even more of the detail in the scene). Then I imported the photos into my computer and used specialized software to combine the three images. The last step was to do some further tweaks to the perspective, contrast, and sharpness to get the final result above. Since I shoot in raw mode, as opposed to jpg like from your point and shoot cameras, my camera stores all of the unedited information from the sensor. In jpg mode, your camera automatically adds color saturation, sharpness, contrast, etc., and compresses the file to make it smaller by discarding some of the information captured on the sensor. I prefer to make these adjustments myself and keep an uncompressed raw file with more information and greater resolution.
If you're curious, below is the unedited "normal" exposure straight out of the camera and not HDR processed.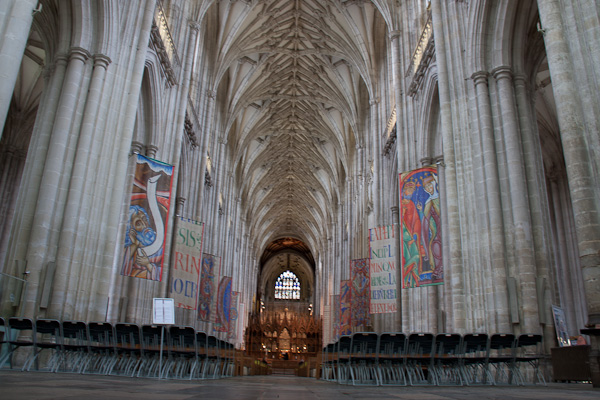 This is a summer full of photo-packed opportunities for me. So keep an eye on this space for regular updates and more photos from multiple locations.
Later,
Dwight
One of the first sites I stumbled upon in Winchester was the Great Hall. It was built some time around 1235 AD under the reign of Henry III and was the venue of dining as well as the administration of justice (hopefully not at the same time). When the Great Hall was built Winchester was the political capital of the English Empire. The doors you see above were added much later, but I thought they were quite interesting nonetheless.
Here's a closer look at the detail (click on the photo and then click once again to enlarge).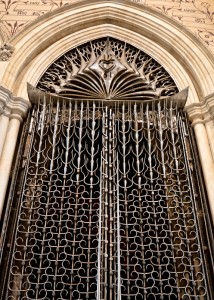 Here's the other end of the Hall. The round table top on the wall is an "imitation of King Arthur's Round Table." The wood used for the table top is circa 1275 AD.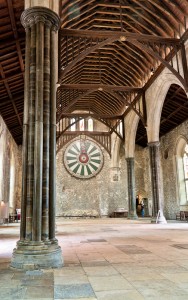 There weren't many visitors here and no one supervising, so I spent about 45 minutes trying different angles and lenses to capture this place. Yeah, I know, you'd think I would have captured a masterpiece with that amount of effort.
OK, so enough history already! It was about lunchtime, so I headed out in search of a pint of ale and some curry. I didn't want some place in the epicenter of tourist activity so I wandered the side streets and alleys until I found this place.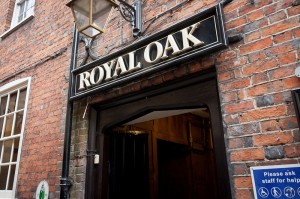 It claimed to be the oldest bar in England (established 1002). I didn't care as long as the beer was cold and the food was fresh. And indeed they were.
Next stop Winchester Cathedral…
Dwight