I recently returned from a business trip to England. Whenever I go abroad for business, I take advantage of the opportunity to spend an extra day and do some exploring and photographing– "shooting", if you will. This meeting was held in Reading, which had it's own charm; but it wasn't the primary goal of the pleasure portion of my trip. The day after the last meeting I set out on the advice of a local friend to explore the town of Winchester. It was about a 40 minute cross-country train ride from Reading.
I normally do some advance research before traveling abroad, but this time I entered Winchester knowing very little about it. I've found sometimes that traveling in ignorance is traveling in innocence. If you enter a location with no preconceived ideas you afford yourself the luxury of discovery. This can add a valuable element to photography. It was under just those circumstances that I set off on foot from the train station in Winchester.
I just headed in the direction that seemed most likely to be fruitful for photo opportunities. Fortunately there were street corner signs that directed visitors to the local attractions. This not only gave me a sense of what direction might be most rewarding, but also gave me a clue to what attractions were available. (Note: don't try this in most US towns or cities. Arriving at a typical bus station in the US and just striking off on foot to explore the local treasures may not expose you to the sights or experiences you had intended).
So here in Winchester I wandered and explored a lot. The following is just a preliminary "taste" of the things I saw.
There was the "Typical British Guy"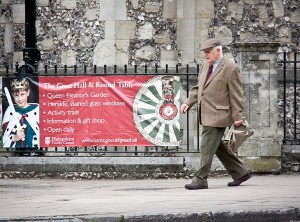 There were British Schoolkids (hey, we have all awaited that essential moment in life as children)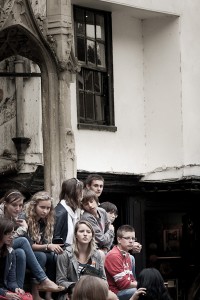 And there was historic architecture (the 13th century Great Hall, showing what is advertised to be King Arthur's famous Round Table)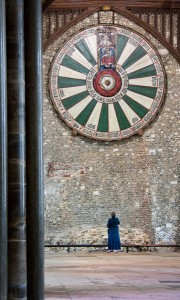 As it turns out, Winchester was a good place to explore.
More to come soon in Winchester Part 2,
Dwight