Monthly Archives:
March 2011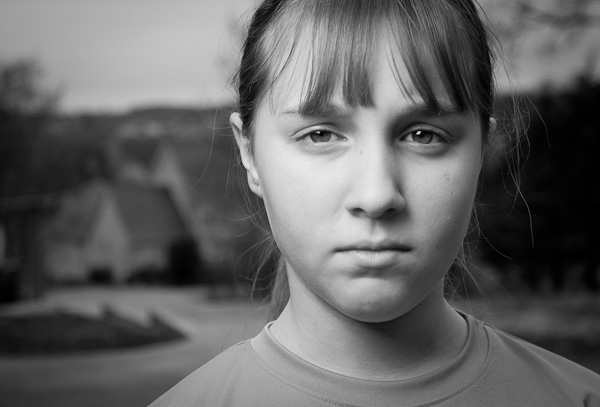 Why do we always insist on people smiling for our photos, especially kids? We're complex beings with a full range of emotions. Why fill our family photo albums with people trying to look happy. Don't get me wrong, a shot of loved ones in the midst of a laugh or sharing a jovial moment is a wonderful thing. But lining everyone up in front of the camera like a reverse firing squad and demanding that they look happy for the camera is a real drag, and some of us don't have a go-to fake smile we can activate on cue.
So, sure, go ahead and take the group shots so you can identify loved ones for future generations; but don't be afraid to shoot real candid emotions, happy or not. What were the circumstances behind the shot above? I had been taking photos of her siblings and asked Kobi if she wanted her photo taken as well. She replied "sure" unenthusiastically, obviously being in a bit of a funk, and stood before the camera. The kids are used to me taking multiple "test" shots so she stayed in character. I like this one because it captures something real. I think when I look back at this in the future I'll remember who she is/was and it will inspire more memories than any "say cheese" moment would have.
Later,
Dwight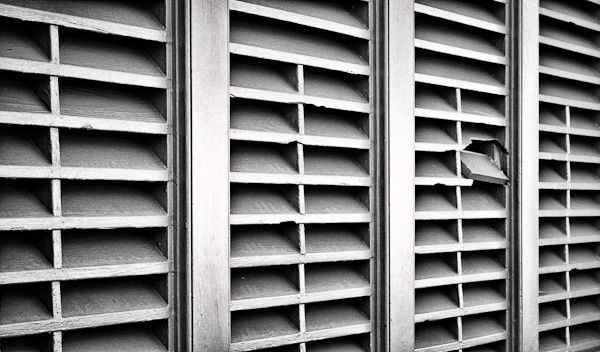 Here's another shot that I took in New Orleans. What attracted me to this set of shutters was the repeating pattern broken by the one detached slat. What I hadn't seen until I reviewed the photos on my computer was the optical illusion. Because of the angle of the shot, the photo looks a bit like it's taller on the right side than the left.
This is another shot I wanted to do something with but just couldn't seem to bring out what I wanted. I felt there was some merit to it, but couldn't do it justice. I'm a little happier with its current incarnation, just not totally pleased yet.
Hey, that's what I like about the arts (music, photography) it's a constant struggle to manifest your efforts into a work that "feels right". How often do I accomplish that? If I had to quantify it, I'd say about 0.05 % of the frames that I shoot are photos that I am pretty proud of. Sure, that success rate would get you canned quickly if you were a pilot or a surgeon, but for me every failed shot is just another rung up the ladder. Someone once said that every photographer has about 50,000 bad photographs in them, so it's best to get them out of the way as soon as possible. Based on that I'm well on my way.
So I continue– reading, learning, practicing, shooting, thinking, reading some more. I sometimes feel that there is a big truth out there for me in photography. And I wonder if I am too involved in the busyness of researching and delving into the details to miss the profound truth of what I seek to put forth.
Could be.
Kinda like life, huh?
Later,
Dwight