It was summer, 2009. This was the view from the front porch of our rental "cabin," a beautifully-restored craftsman-style home with a full gourmet kitchen– not exactly roughing it here. Those of you who have ever lived in New England know that early June is not a time to throw on a pair of shorts and dive into the lake to escape the heat. At least that was not the case this year (2009). The daytime highs were in the upper-50's to low 60's. The air was damp and fogs were frequent and persistent.
We've all admired moody photos of foggy maritime scenes. These were undoubtedly taken by sleepy-eyed photographers who dragged themselves out of bed in the middle of the night every day for weeks hoping to catch just such environmental conditions– the eternal quest for that striking photo to grace the walls of exhibition space and the homes of customers and art collectors. Since these scenes were available practically all day every day of our vacation, I thought I was a blessed man. But, the Muse being the fickle virago that she is, I ended up with a bunch of flat, pointless, low contrast birdcage liners.
A few cases in point: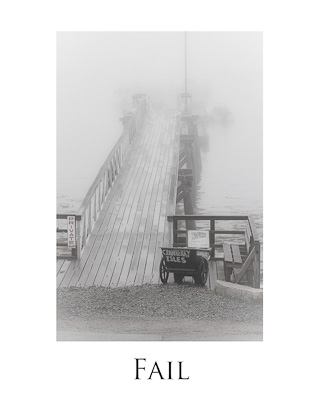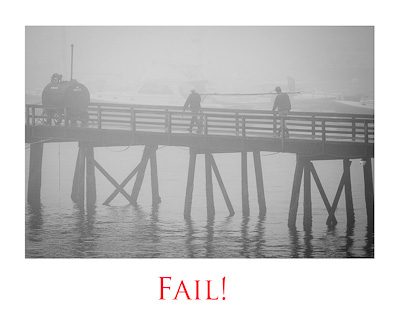 So, what did I learn about photographing fog on this trip? I have boiled it down to three possibilities, either A) I have no talent for photographing fog scenes, B) the muse must be in full turbocharge mode before attempting fog photographs, or C) fog is great!…as a background– when you're in it it just washes the definition out of everything.
What do you think? Any successful fog photogs out there? Then please leave a comment.
Later,
Dwight