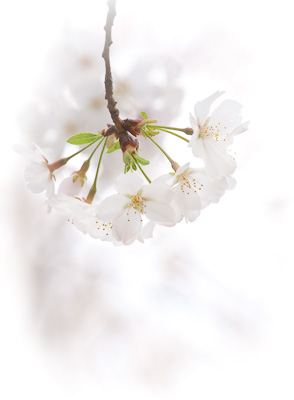 After Snowpocalypse, The Snowbomb, and who knows what's next, perhaps Snowgate, I think even those of us in the S.E. US could use a break. Sure, we had a beautiful Christmas day here in middle Tennessee. It was our first white Christmas in 17 years. But we now share with our brethren to the north, as in NYC, a common wish to get on the other side of this. The delight of watching big puffy snowflakes fall all day on Christmas while walking in the soft white serenity has now been replaced by grungy residual snow fatigue.
So, I thought it appropriate to post a photo symbolic of the end of winter at our house. This is the blossom of the yoshino cherry tree in our front yard. It's snowy-white to pink blossoms delight us each year when the blooms peak for just a few days. After the big bloom, the flowers fall like snow on our front sidewalk (nice segue, huh?). As much as I enjoy going for walks in the winter (seriously) springtime is always a pleasant mood swing. The woods in our backyard begin to fill out with green foliage so that we can no longer spy on the deer foraging through the undergrowth. The first sprouts of bulbs planted so industriously by the previous owners of our home begin pushing through the topsoil (before buying a house, always ask if there are perennials planted in the flower beds– it will save you a hell of a lot of time and labor if you hate gardening as much as we do).
Then comes the annual ritual of the first bird feeder. I repeated this ritual for about the first four years that we lived here. I put up a feeder and wait. It takes a few days for the birds to find it, but then there is a day or two of avian activity before the raccoons and squirrels vandalize the feeder and the neighbor's cats begin feeding on the birds. The feeders go to the garage and the squirt guns come out for the cats…but then that's summer, and another story.
For now there's nothing to do but adorn ourselves with layers of fleece and goretex and wait for the groundhog.
Bundle up,
Dwight