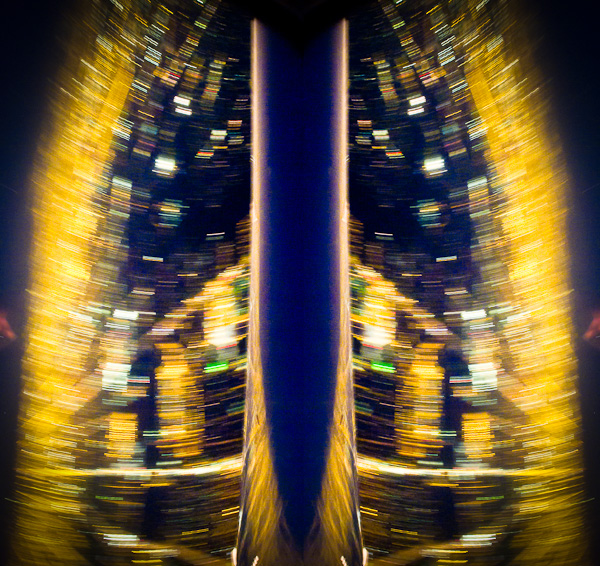 I spend a lot of time reading blogs by professional photographers and trying to learn new techniques. Sometimes when I get blocked up creatively I take some time to just play around. Hell, who am I kidding, that's really all I ever do.
This weekend, I was going through old photos looking for blog inspiration and found one that I had taken on a return flight from Chicago. First let me set this up by saying that I used to travel a lot. I spent most trips traveling in the US and Canada– on my most traveled year, I had 49 trips! Now, due to advancements in my career I travel at most about once a quarter; and due to the more global nature of clinical research, I do more international travel, as you can see in the photo galleries. So, let's just say that by comparison to the past I have gotten a little rusty on travel.
That explains why I was shooting away with my trusty Canon G11 at the pretty lights of Chi-town as we departed O'Hare, not a thought given to the announcement that all electronic devices were to be turned off during departure. Sorry, man, the lights are pretty and it looks kinda cool when the plane banks during exposure. My transgression really hadn't occurred to me until we prepared to land in Nashville.
So that's a little background on the moment the photo was taken that led to the final photo above. This was the original photo: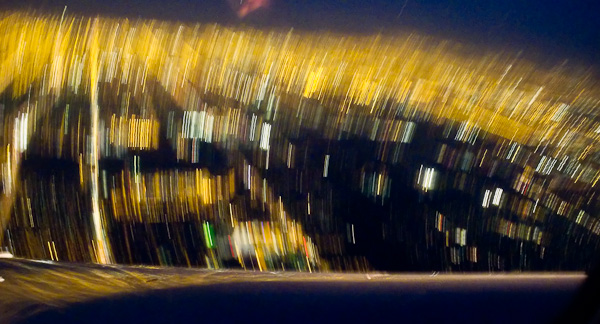 I sort of liked the photo, but it didn't stand alone, at all. So I began to play with it in Photoshop and tried it as a mirror image. I liked that better, but when I rotated it 90 degrees counterclockwise the patterns began to appeal to me.
Yeah, I know…I'll keep practicing. But the point is, sometimes you just have to play, and keep playing; because every time you do, you learn something, or something clicks, and one day something will gel…
Thank you for being here,
Dwight