Monthly Archives:
July 2010
a·nach·ro·nism
Something or someone that is not in its correct historical or chronological time, esp. a thing or person that belongs to an earlier time.  [Dictionary.com]
Hello all,
I have been panning for gold in my digital photo archives (over 28,000 photos– yeah, I should probably do some weeding) and ran across this interesting busker in Frankfurt.  I was there for a few days that were practically wall-to-wall meetings– which is usually the case when abroad.  I mean if a client is going to the expense of sending you to Frankfurt from the states they would like for you to actually accomplish something while you're there.  Finally, on the last day I had about 2 hours of leisure.  So I just followed the Main river where it would take me.
That's where I spotted this accordion player (note that her hair really was that color).  She was a compelling combination of street-wise tragedy and innocent waif.  This impression was supplemented by the plaintive folk tunes (presumably traditional arrangements, but how would I know) that she was playing.  I guess it was especially poignant to me that she was sitting on the pave-stones and most people were just  rushing by her and her Subway collection cup with disregard.  Yet her motivation seemed oblivious to the surroundings.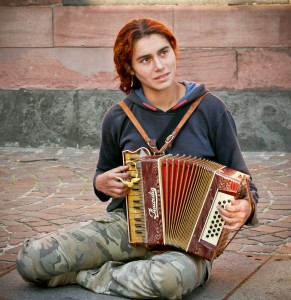 I kind of admire her for the persona I have imposed upon her.

I'm not so sure how she feels about it, though.